Reading Time:
4
minutes
What should I order from DoorDash? That's probably the question I ask myself or my significant other every single time we are looking to order through the app. Whether you're a busy person or just looking for an excuse not to cook, DoorDash is probably one of the most incredible applications out there. Want Chinese food but don't have time to stop by a restaurant on your way home from work? DoorDash it, it will get at your house at the same time as you get home from work. Craving some enchiladas but don't want to go out on a Friday night? DoorDash it, and shield yourself from any human contact (other than your friendly neighborhood Dash-Man, at least, that's what I call them).
Anyway, if you're in good ol Modesto and taking a swing at DoorDash, here are some of my go-tos when ordering through the app (in no particular order).
One of my favorite kinds of restaurants to frequent are the Subway-esque places that allow you to create your own plate. This is a personal thing just because I hate being "that guy" when ordering something and requesting things on the side or not being on the plate itself. Mongolian has a variety of fresh meats such as beef, turkey, chicken, and pork (they also have the option of creating a vegetarian plate, with the option of adding tofu as well). The restaurant also features a wide variety of vegetables and sauces, all fully customizable. I am always satisfied when ordering from GK, and my order turns out tasting exactly like I crafted it to taste through the app.
When it comes to options for lunch or dinner, sushi is always an option to me. No matter the occasion, or the day (except for Mondays since they're closed), I could always go for sushi. There are quite a few sushi restaurants in Modesto, but one of the ones that have always satisfied my craving the best is Osaka. My go to roll has to be the Firecracker Roll, and when I'm not in a sushi mood (which is almost never) I order their teriyaki dinner plate. Their food always tastes great and they have a variety of different sushi rolls and entrees to try out to fit your Japanese cuisine fix!
If you've ever ventured into downtown Modesto or frequent Brenden Theatres, you might have heard of or seen Fuzio Universal Bistro. The restaurant is truly a "world of flavor," their menu compromising of wonderful pasta dishes, flavorful gourmet burgers, steaks, and more. It is a great place to dine out at (or in this case dine at home), fulfilling any cravings you may have. Wanting something savory? Their firecracker tri tip roast will keep you wanting more. Need something on the lighter side? Their salad choices are wonderful and tasty!
Tesoro Fine Mexican Restaurant
Modesto has many Mexican restaurants as well as taco shops and taquerias. One of the many restaurants available through DoorDash is Tesoro, which means "treasure" in Spanish – rightfully so. From their burrito supremes to their wonderful fajitas, all the way back to their chicken mole poblano, Tesoro's recipes stay true to the authentic taste you would find only in Mexico.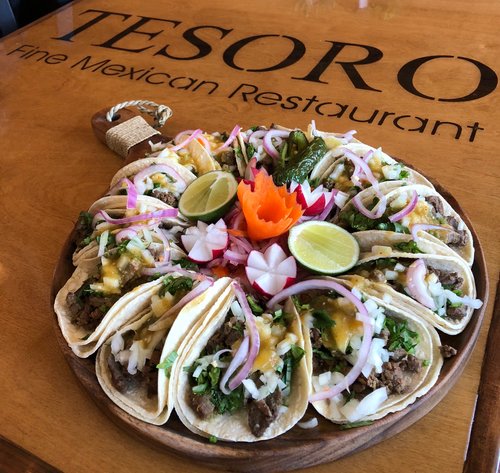 This restaurant has to be overlooked by pretty much anyone in the Central Valley. There are only two locations in all of California, one being in Modesto, and the other in Rancho Cucamonga. Of course there is the almighty Buffalo Wild Wings (which is only good if you blend two flavors, pro tip), but there is just something about this place that is different and is always a delight to order from. I would recommend trying their Peach Habanero wings, as well as pairing it with a side of Parmesan Garlic Aioli Fries (yum).
DoorDash is a mobile application that allows you to order from a variety of restaurants, and either have it delivered straight to your home or work, or scheduled for pickup at select locations.
You can download the app for free on iOS or Android, as well as $20 off your first four orders here.